Gone are the days when sourcing for anything be it clothes, shoes, services or trying to compare products from anywhere or location difficult anymore with the advancement in technology, you can order any products or services from the comfort of your home without even seeing or touching the product physically and still be assured what you are getting will meet your expectations. Ordering food online is not an exception to this cause there are many websites that act like platforms for customers to browse various restaurants and cafes and order their next meal.
While some restaurants have their own platforms where customers can order food without visiting the restaurants. This article will list the top 10 best websites to order food online.
1. Zomato
Zomato-Food-Delivery-Websites
Zomato is a restaurant aggregator and food delivery startup founded by Deepinder Goyal in 2008 and Pankaj Chaddah but was originally known as Foodiebay before it was renamed in 2010. Zomato originally started in Indian but has since expanded to 24 countries including the USA with over 80 million monthly active users.
Zomato has been growing rapidly over the years with over 5,000 employees
Features of Zomato Food Delivery Website:
Offers food delivery services in 10000+ cities across 24 countries
The website has more than 80 million monthly active foodies
Foodies can log in and add their reviews about restaurants and food
You don't have to register before using the service
Business owners can list their restaurant on the website and add details such as an address, menus, photos and lots more
The website is available in languages such as English, Portuguese, Italian, Vietnamese, Slovak, Polish, Turkish, Spanish and Czech
Available in 24 countries: Australia, Brazil, Canada, Chile, Czech Republic, India, Indonesia, Ireland, Italy, Lebanon, Malaysia, New Zealand, Philippines, Poland, Portugal, Qatar, Singapore, Slovakia, South Africa, Sri Lanka, Turkey, UAE, United Kingdom, United States
Available in both desktop and mobile versions
2. Grubhub
Grubhub-Food-Delivery-Websites
Grubhub is a Chicago-based website was founded in 2004 by Mike Evans and Matt Maloney, to create an alternative to paper menus. As of 2009 the company had 19.9 million active users and 115,000 associated restaurants across 3,200 cities in the United States.
Features of Grubhub Food Delivery Website:
Grubhub offers both home delivery and restaurant pick-up services
Only available in the USA
The website offers gift cards that can be gifted to someone. The recipient redeems the card by using it to order food for the value of the gift card
It offers special deals and discounts for students
It has both desktop and mobile app versions
3. Uber Eats
Uber-Eats-Food-Delivery-Websites
Uber Eats' parent company Uber was founded in 2009 by Garrett Camp and Travis Kalanick. The company made its foray into food delivery in August 2014 with the launch of the UberFRESH service in Santa Monica, California. In 2015, the platform was renamed to UberEATS, and the ordering software was released as its own application, separate from the app for Uber rides.
Features of Uber Eats Food Delivery Website:
Users can access the website on desktops or mobile apps
Available in the USA only
The Uber Eats app features small, independent restaurants and cafés as well as the big chains that means you can try out a new cuisine every time you order.
Uber Eats plans to have cloud restaurants or cloud kitchens that only accept phone or online orders and will not have any dine-in facility
Users can order food on Uber Eats between 10 am and 12.30 am on all days
Uber Eats offers credit points for orders made and sharing personal invite codes
4. Just Eat
Just-Eat-Food-Delivery-Websites
Just Eat plc is a British online food order and delivery service founded by five Danish entrepreneurs, including Jesper Buch, founded Just Eat in Denmark in 2000 and launched the service in August 2001. It acts as an intermediary between independent take-out food outlets and customers.
It is headquartered in London, England and operates in 13 countries in Europe, Asia, Oceania, and the Americas, the platform enables customers to search for local takeaway restaurants, place orders and pay online, and to choose from pick-up or delivery options.
Features of Just Eat Food Delivery Website
It operates in 13 countries
Just Eat UK charges £699 for restaurants to join the portal
It earns 13 to 14% commission from each order
Is a public limited company
Has over 3,000 employees
Owned by takeaway.com
It is available in both desktop and mobile app versions
More than 100,000 restaurants are associated with this food delivery platform
5. Doordash
Doordash-Food-Delivery-Websites
Doordash is a San Francisco-based on-demand prepared food delivery service founded in 2013 by Stanford students Andy Fang, Stanley Tang, Tony Xu, and Evan Moore. DoorDash is one of several technology companies that use logistics services to offer food delivery from restaurants on-demand.
Features of Doordash Food Delivery Website
It is available in more than 600 cities spread across 56 countries
The website offers food delivery not just to homes and offices, but also to other locations like parks and grounds
People who want to make extra money can become dashers at Doordash and deliver food
Project DASH is its CSR project,  through which Doordash donates excess food  from restaurants to Feeding America Charity's MealConnect system
online-food-delivery-market
6. Swiggy
swiggy-Food-Delivery-Websites
Swiggy is the biggest food delivering website in Indian with over 200,000 employees and over 100 million active users. It was founded by Sriharsha Majety and Nandan Reddy in 2014 and located in Bangalore Indian.
In September 2019, Swiggy launched instant pick up and drop service Swiggy Go. The service is used to pick up and drop off a diverse array of items, including laundry and document or parcel deliveries to business clients and retail customers.
Features of Swiggy Food Delivery Website
Users can order food online, search for restaurants or make table reservations
The prime features are no minimum order, live order tracking, and super fast delivery
It has both desktop and mobile app version
Over 10,000,000 million downloads on play store
Swiggy Pop gives food suggestions, so users can first select the meal and then decide on the restaurant from where they want to order
Swiggy Super offers unlimited free delivery without any surge fee
Swiggy Daily is a service that is currently available only in Gurugram. Users can order for homestyle meals that are wholesome and affordable using this service
The website also offers Swiggy Go service that offers pick up and drop services of any kind of items
7. Dominos
Dominos-Food-Delivery-Websites
Dominos well known for pizzas is an American multinational pizza restaurant chain founded in 1960. In February 2018, the chain became the largest pizza seller worldwide in terms of sales.
Dominos was founded by James Monaghan, Tom Monaghan and Dominick DiVarti its Headquarters Domino's Farms Office Park, Ann Arbor, Michigan, U.S. It is one of the first companies that offered home delivery services.
Features of Dominos food delivery website:
Users can order pizzas online or find Dominos restaurants nearby
Area served: worldwide
Products: Chicken wings, Dessert, Pasta, Pizza and Submarine sandwiches
The portal also organizes birthday parties
It offers catering services for weddings and corporate events
The portal promises 30-minute delivery of pizzas
Dominos all has a Gift Card option and e-gift voucher that can be redeemed in pizza outlets, website or mobile app
8. Pizza Hut
Pizza-Hut-Food-Delivery-Websites
Pizza Hut is a subsidiary of Yum! Brands, Inc., one of the world's largest restaurant companies which were founded in 1958 in Wichita, Kansas by Dan and Frank Carney.  Pizza hut is an American restaurant chain and international franchise The Company is known for its Italian American cuisine menu, including pizza and pasta, as well as side dishes and desserts. Pizza Hut has 18,431 restaurants worldwide as of December 31, 2018, making it the world's largest pizza chain in terms of locations
It operates from its headquarters in Plano, Texas, United States.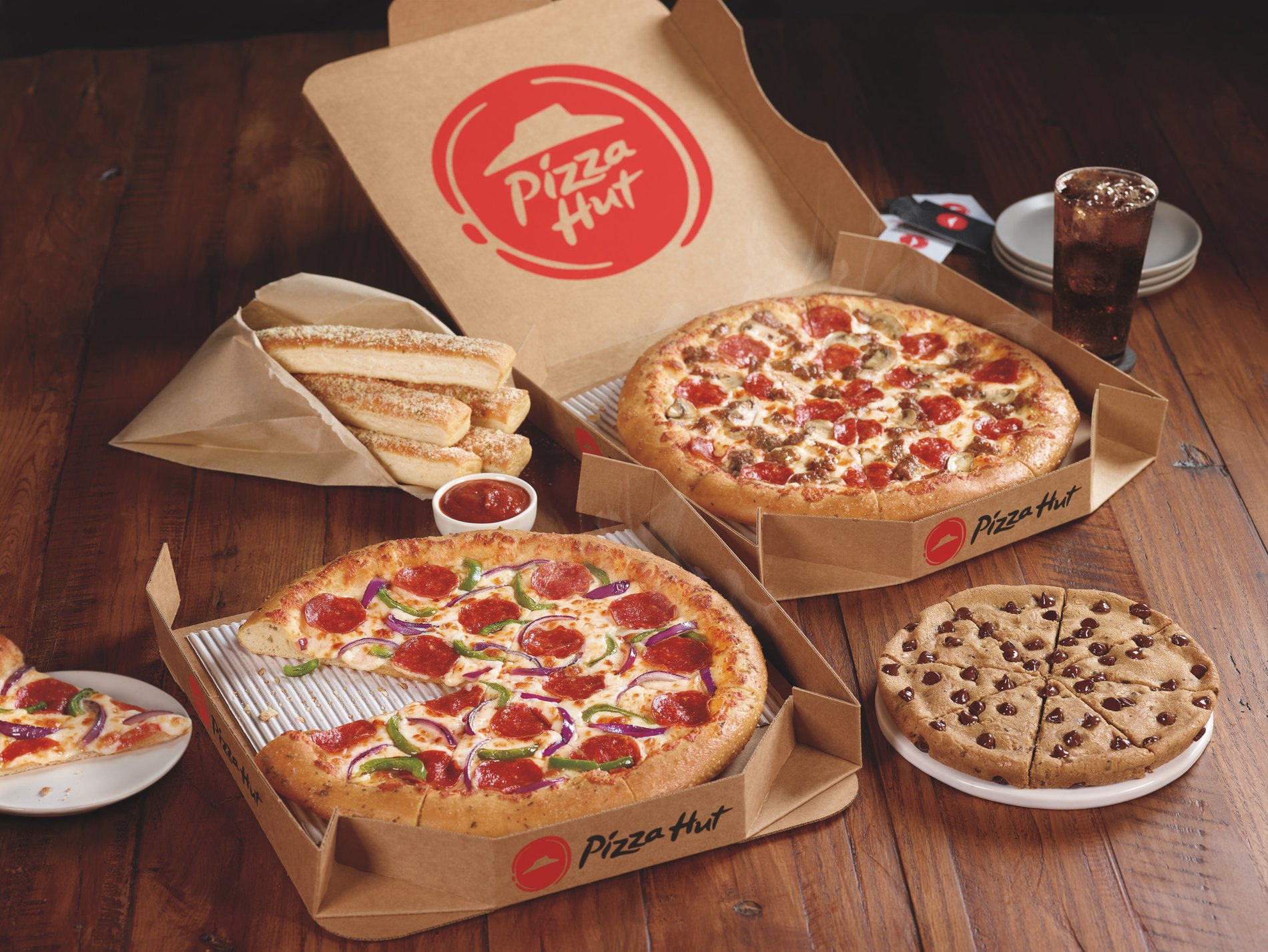 Features of the Pizza Hut delivery website:
Pizza Hut has more than 18,000 outlets across the globe
It offers both takeaway and home delivery options
Apart from pizzas, it also offers sides, drinks, and desserts
The website offers pizzas based on the local produce and cuisine
Location served: worldwide
9. Deliveroo
Deliveroo-Food-Delivery-Websites
Deliveroo formally is known as Roofoods Ltd is a privately owned online food delivering website based in London, England and operates in over 200 cities in the United Kingdom, the Netherlands, Belgium, Ireland, United Arab Emirates, Italy, Australia, France, Singapore, Spain, Hong Kong, Kuwait, and Taiwan. It was founded by Will Shu and Greg Orlowski, both Americans, in 2013.
Features of the food Deliveroo website
Restaurants that don't have an online portal can reach out to online customers through this portal
It charges fees to customers and gets a commission from restaurants
It has a website as well as mobile app versions (both android and iOS)
The website offers both home delivery and takeaway services
The portal classifies a food as Comfort food, Desserts, and sweet dishes, Healthy options, Deliveroo edition and Our picks for easy ordering
It operates in over 200 hundred cities
It also offers office catering services
10. Postmates
Postmates-Food-Delivery-Websites
Postmates is an on-demand delivery company located in the United States providing delivery from restaurants and stores that previously did not offer goods delivery. It was established in 2011 by Bastian Lehmann, Sean Plaice, and Sam Street is headquartered in San Francisco, California
Features of Postmates food delivery website:
The service is available in more than 90 cities across the United States
Merchants can create an account on the website and sell products
Users can explore the nearby restaurants and order a meal
It offers both home delivery and takeaway services
Located in the USA only
Users can also order for pickup
There are order food delivery websites not listed here where you can order food online and have it delivered to you these are the ones that make the top 10 after considering certain factors and criteria.